michigan bar - crevis creek trip
Time: 1-2 Hours
This trip consists of heading west from Latrobe on South Shingle Road, going all the way through to Stonehouse Road and turning left, making another left on CA-16 (Jackson Road), turning, once again, left, on Michigan Bar Road, and then turning right on South Shingle Road, which will take you back to Latrobe (see map).
Requirements for this trip are an elevated vehicle, and, if it has recently rained, 4-wheel drive may be necessary. This trip includes many small and large creek fords (the one where Latrobe Road crosses Crevis Creek is very large), thus an an elevated automobile is needed. Driving this route is heavily discouraged after long periods of precipitation, because the water level in the creek crossings may be too high, and the road will be muddy. Another thing is that this is a bumpy journey with ruts in the road, so be careful and go slow (the bumps can sneak up on you).
The bridge where Michigan Bar Road crosses the Consumnes River is very interesting. It is a 2-span Bailey deck truss bridge with a length of 353 feet. The bridge was constructed in 1947 and is single lane.
There is one more element of this trip that must be told. When these roads were constructed, as crews were cutting out the road, they hit flat rock veins. These were incorporated into the road surface, so as you drive you will go over impressive rock slabs that make up part of the road surface.
Powered by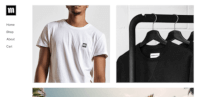 Create your own unique website with customizable templates.